PHP Forum
Our new PHP based chat forum offers some wonderful features - high powered, fully scalable, and highly customisable. It has a user-friendly interface and a straightforward administration panel. It also offers anextensive authorization system, strong encryption to keep passwords safe in the database, unlimited forums that can be organised into as many categories as you like, private forums and those only for specified user groups.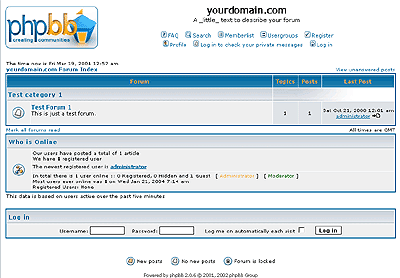 Log In
When you first begin setting up your new PHPBB Forum, you will receive a standard administrator name and password. Log in on the bottom of your screen like any other use would. On the bottom of the page you will see a link "Go to Administration Panel." Click on that and it will take you to the back end of the forum, where you can set usernames, passwords, change colors, set attributes and defaults through out the forum.
Changing the Appeareance of the Forum
In the styles section of the administration panel there are a number of ways to edit and create styles for your forum. The PHPBB site offers a number of template downloads, as well. One important detail that is not mentioned on the site is how to change the image on the forum itself. In the subfolder templates/subsilver there are two images logo_phpBB.gif (200X91 px) and logo_phpBB_med.gif (122X56 px) that you need to replace.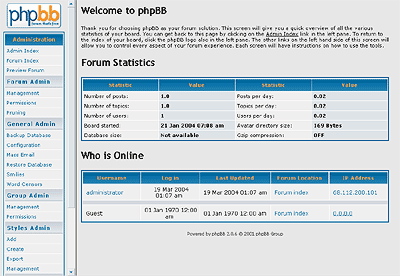 Troubleshooting E-Mail
The one piece of the forum set up that is incomplete is the mail information. You will need to set a mail user, password and SMTP server in order for the mail function to work properly. We do not have access to your e-mail passwords, so you will need to set this up with your account information.
Administration panel gives an error upon opening. This is a known bug. Just refresh the browser screen and the error should go away.

Users can't upload avatars. This is set to "no" by default. If you want this feature, make the necessary change in your Administration Configuration panel. Then if it is giving you an error, contact us to make the necessary permissions change.

No matter what I do, I can't allow unregistered voters to vote in polls. It is a hard-coded feature of the forum that unregistered users can't vote. This is to prevent voters from going back to revote. There is a "mod" on the PHPBB site that allows you to make this change. We don't offer any support for these modifications, but if you feel comfortable with the slight coding requirements necessary to make this change you are welcome to do it.
Full Documentation
Full Documentation is available at the main PHPBB site. They have a number of great templates, Flash demos and updates available for the forum.