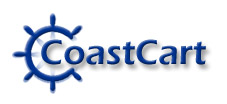 What is CoastCart?
CoastCart is an integrated shopping cart that features web-based management and easy design features that allow you to match the look of the cart to the rest of your site. CoastCart offers secure transactions for credit cards, seven different shipping models, customized taxing procedures and the option of real-time credit card transactions or manual order processing. You can even print an invoice directly from the Internet.
This online documentation provides step-by-step instructions on setting up your cart, a line-by-line description of each set up form, tips and how-to's on key features and insight into how your customer will be using this cart. Please note: Some of the pages are graphic rich and may take a minute to download. Click here to check out the sample cart!
For complete documentation, download the PDF detailing complete instructions! For a complete, detailed instruction manual on how to use CoastCart, download this PDF file.

If you need a free copy of the Acrobat Reader, get it here.